The time has finally come to put down roots. You've made a list of the things you want and need in a home, your Pinterest board is littered with decorating ideas, and you've spent hours online drooling over granite countertops and hardwood floors. Trying to figure out a budget, however, isn't as clear.
Maybe you've used a few online calculators but you're uncomfortable with the numbers they spit out. Or maybe you're trying to set your budget by the popular "28/36" rule. This rule of thumb states that you shouldn't spend more than 28% of your gross income on housing expenses and no more than 36% of your monthly income on your total debt (student loans, credit card payments, etc.).1 Others advise that you should take your gross annual income and multiply it by three to get a ballpark amount for what you can spend on a house.
Rules and advice aside, only you can really determine how much you're comfortable spending on a mortgage each month. Your lifestyle, the amount of debt you currently owe, and the area you're searching in can have a big impact on your housing budget. So before you go shopping (or even apply for your mortgage), take a few minutes to crunch some numbers.
Check Your Budget
Buying a house often means that your budget is about to go through a major overhaul. Whether you plan to upgrade and spend more per month on housing or you're downsizing and will get to enjoy more cash on hand, it's a good idea to get a complete picture of your finances before you buy a new house.
First, fill out a monthly budget worksheet to get a visual for how much you make and spend each month. Remember to budget for savings, vacations, holidays, home maintenance, and irregular expenses, like car repairs. If you're not sure how much you spend in each category, log in to your Online Banking account and look under the "Money Management" tab.
Figure Out Your DTI
When you get pre-approved for a mortgage, we look at your debt-to-income (DTI) ratio.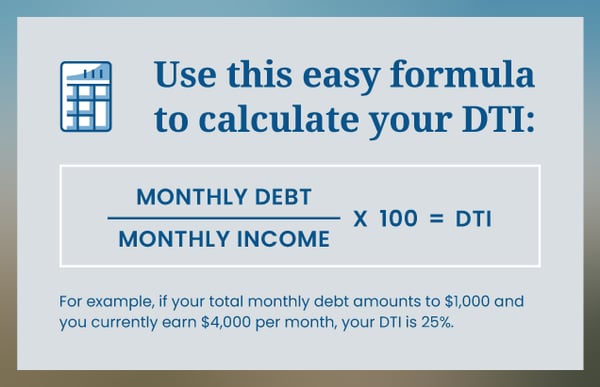 This number gives us an idea of how much debt you currently have and if you have the income to support that debt.
Now that you've gone through your budget, take your total monthly debt payments (car payments, credit cards, student loans, child support, current mortgage, etc.) and divide it by your monthly gross income (income before taxes). Multiply this number by 100 and the total is your DTI. The lower this number is, the better.
It's recommended that you keep your DTI under 36%, with your housing expenses (mortgage, property taxes, home insurance, associations fees) being 28% or less of your total monthly gross income.2 If your DTI is higher, it might be a good idea to lower or pay off some of your debts before you purchase a home.
How Much Can You Put Down?
You've figured out your budget and determined your DTI. If things are looking good so far, let's talk about your down payment. A down payment is an initial deposit you make on your home. It represents how much of your home you actually own.
You usually have to put down at least 3% of the total purchase price of a home3, although some loans offer exceptions where you can put less down. You can always put more money down and it's a good idea to do so if you can afford it. The more you put down, the less you have to finance. Plus, a larger down payment could mean smaller monthly payments.
What is a Comfortable Monthly Payment?
For most people, it's easier to grasp the cost of a new home when it's broken down into monthly payments. Take your monthly income and multiply it by 28% (remember the 28/36 rule). This is about the maximum monthly payment that you can afford per month on housing. This figure includes taxes, insurance, and potential PMI and HOA fees. Once you have your maximum monthly payment amount, go back to your budgeting worksheet and replace your current mortgage payment with this new amount. Assuming your other expenses stay close to the same amount, would you still have money left over for savings each month if your housing expenses increased?
Of course, you need this monthly payment to translate to an overall purchase price so you can set expectations with your real estate agent and let him or her know the price range you can comfortably shop in. To do this, use the "Calculate for total monthly payment option" on the mortgage qualifier calculator4 from our partners at Mortgage Center. The calculator will give you an estimate of how much you can afford.
With droves of articles and advice circulating the Internet, it's hard to figure out how much you can afford to spend on a home. Just remember, you're not going through your house hunt alone. When you apply for your mortgage, we'll work with you to accurately determine how much you can comfortably spend on a house. Don't let the big numbers scare you off. You're more prepared for this adventure than you think.