It's not every day that you get to go to work knowing that you're about to change the lives of two people. On Tuesday, January 24, we celebrated a life-changing moment for two Lake Trust members, Robin and Tiffany, when we presented them with $150,000 and $50,000, respectively.
Joining Our Community
When we were given promotional money through a partnership with Mortgage Center, we decided the money would be better spent helping our members versus spending it.
So we created a campaign where new members who opened an account between September 1 and December 31, 2016, were automatically entered to win $150,000. Current members could refer their friends and family for a chance to win $50,000 (if the referred person joined). Tiffany and Robin received their good fortune by participating in this promotion.
Meet our winners and help us congratulate them!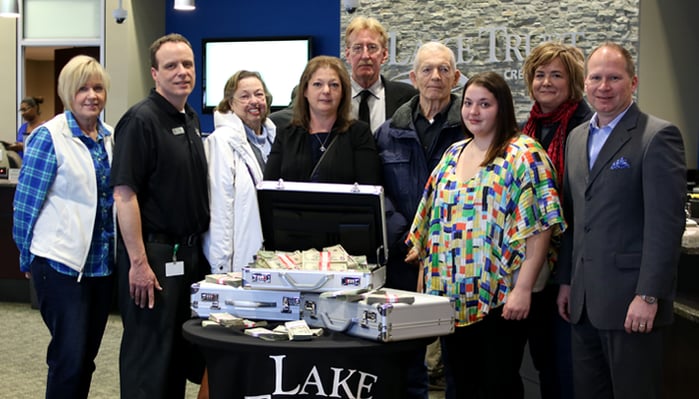 Congratulating Robin
The new year is turning out to be very lucky for Robin. She recently landed her dream job and now she has an extra $150,000 to put toward buying a new car and rebuilding the engine in her Harley Davidson motorcycle. A family vacation is also in the realm of possibility.
"I thought they were messing with me when I got the call. I called the local branch manager because I didn't think it was real," she said of her initial reaction when we told her she won.
We had a blast celebrating Robin's new membership with us. Team Lake Trust gathered at a Lansing area branch to cheer her on as she walked through the doors. A few members inside the branch even joined in on the festivities.
Celebrating with Tiffany
After being a member with us for about six years, Tiffany now sees her membership in a new way.
"I've always said that I love my credit union...Now I'm in love with my credit union!" Tiffany exclaimed when she walked through the door of the branch.
Several family members and friends accompanied Tiffany to her celebration event. They shared their happiness of Tiffany's win with stories about her kind heart and selfless attitude. With family being a huge priority, Tiffany plans to set some money aside to save for her nephew's future. Her win of $50,000 will also be a big help in the search for her first home.
The True Meaning of Work
Robin and Tiffany's stories show the significance of being part of an organization based on the idea of people helping people. Changing lives and making a difference, whether small or large, are the true reasons we come to work each day.
We live for those storybook moments when our members can live a better life and accomplish their dreams.
SEE ALSO: Young in Age, Big in Heart: Connor's Story | Changing the Game: Ultimate Soccer Arenas