We're helping four lucky high school seniors head off to college with one less thing to worry about. This year we increased the Lake Trust Foundation Community Scholarship from $1,000 to $5,000 because we felt that this would have a bigger impact on the lives of these students. Meet our four winners and learn about the vision they have for their future careers.
After answering three essay questions about volunteering, making a difference and helping others, we picked four students who we felt best demonstrated our Core Values. Here's how our 2016 scholarship winners are going to put their mark on the world.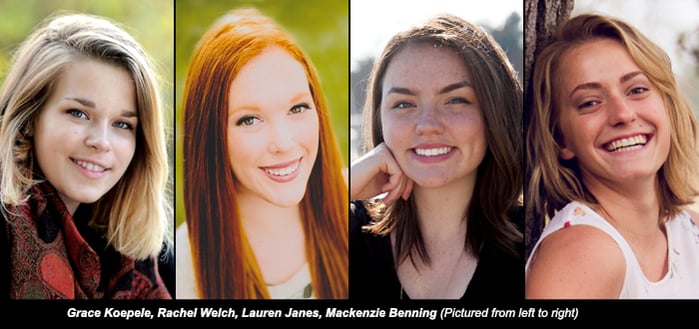 Grace Koepele
Grace loves working with others and has volunteered with various organizations over the years, including the National Relief Network. She's enjoyed making connections with other volunteers and being able to make a difference in the lives of disaster victims.
"Volunteering helps shift your view of the world for the better and allows you to meet people and learn about things you may never have expected to," she says of her experiences.
Grace wants to continue working with people while also being able to exercise her artistic abilities. She tells us that she could see herself working as an art director for a website or magazine someday. To get started, Grace will attend Michigan State University this fall to major in arts and humanities.
Rachel Welch
This future teacher is heading off to Grand Valley State University in the fall to major in primary education with an emphasis on speech pathology.
Rachel explains that her future career will not just focus on teaching, but on encouraging: "As a teacher, I don't want students to just learn content and forget it, but to passionately know it, embrace it and understand it. I want the best for every child and I want to make certain that every child knows that greatness is within their own reach."
Rachel lives out her passion for helping students realize their potential through her volunteer work with the Teach Cadet Program and the READ program. Each week, she goes into classrooms and helps young children get excited about reading.The progress that she sees in the students as they learn to read had a tremendous impact on her decision to pursue a career in education.
Lauren Janes
Lauren has logged over 70 hours with Big Brothers Big Sisters where she volunteers as a mentor. The stories she's heard during her time with the organization have given her some insight on how important it is to help those in need.
"Volunteering for Big Brothers Big Sisters has opened my eyes to the struggles people face in my community. I hope to better help underprivileged people with my education," she says.
She plans to do this by majoring in social theory and practice at the University of Michigan. Influenced by the stories she's seen on her favorite news program, 60 Minutes, Lauren has developed a passion for social justice and equality. She dreams of working as a correspondent for the show so she can help bring controversial issues to light.
Mackenzie Benning
Coming from a family of engineers, a major in chemical or biomedical engineering only seemed like a natural fit for Mackenzie. She'll start her studies at Washtenaw Community College in the fall.
Of volunteering, she says, "Every bit of time put in helping someone or some place has lasting effects on the organization or the person that they'll always remember."
Mackenzie doesn't put any limit on where she'll volunteer, and has helped out at the Chelsea Retirement Center, the Manchester Rabbit Sanctuary and Alpha House. She finds additional opportunities through her church and Girl Scout troop. She loves seeing the happiness her work brings to others and reminds us that even a few hours of volunteering can have a huge impact.
A round of applause is in order for each of our winners. We can't wait to see how you're going to change the world.
SEE ALSO: 2015 Lake Trust Foundation Scholarship Winners | Get Creative to Save Money in College