It's no secret that 2020 was a difficult year. The COVID-19 pandemic closed schools and businesses and made life look very different. Though the public health crisis dominated the news, the effects from this event also impacted the wellbeing of families, businesses, and nonprofits beyond physical health. Widespread job losses had a negative effect on family finances, and school closures increased the need for many community and nonprofit services. To help, the Lake Trust Foundation recently made a donation to the Eastside Community Action Center (ECAC) in Lansing.
The Lake Trust Foundation hosts a yearly golf Invitational to raise funds that are put toward local projects and initiatives. Proceeds from the event support our scholarship program, community outreach programs, and help us award grants and donations to nonprofits in Michigan. In 2020, we earmarked a portion of the net proceeds from the event to benefit COVID-19 relief efforts in Michigan neighborhoods. The Lake Trust Foundation recently awarded a grant to the ECAC as a direct result of the funds raised at the 2020 Invitational.
Providing For The Community
The ECAC stayed open and completely functional throughout the entire COVID-19 pandemic and provided essential services for the community. Founded in 2007, the organization serves as a charitable and educational hub to benefit vulnerable youth and adult residents in the City of Lansing. Services provided by the ECAC include:
Food Pantry: Many families rely on the ECAC toward the end of the month when additional food may be needed. The food pantry serves over 150 individuals per month.


After School Action Program (ASAP): Students can get help with tutoring or homework, attend computer skills training, participate in character building activities, and enjoy a light meal.


Housing Opportunity Program (HOP): Personalized financial programs at the ECAC help people transition from renting to homeownership.


Clothing Closet: Free clothing is available for individuals and children in need, so they have outfits for school, work, or everyday life. This program assists over 50 families per month.
Offering Technology Resources
The computer lab at the ECAC is an important resource for the community. According to the latest census in 2019, an estimated 17.7 percent of households in Ingham County do not have a broadband internet subscription.1 This means that these households may not have access to the internet at home.
During the pandemic, the computer lab gave area residents access to the internet to file unemployment claims, search for jobs, or create resumes. Students used the lab to complete homework online when many schools moved to virtual learning. Recognizing that the need for access to technology had increased, part of our donation was used to upgrade the ECAC's internet infrastructure to improve their wired and wireless network capabilities. Funds were also used to purchase new computers and replace the flooring in the lab.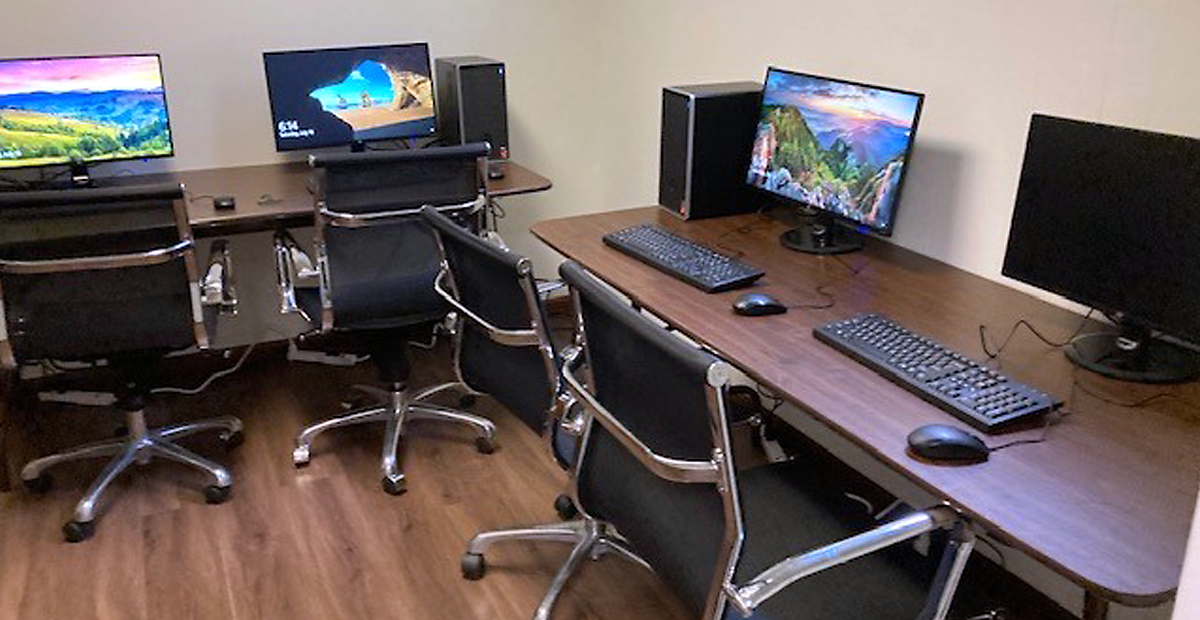 The computer lab at the ECAC gives area residents access to the internet to search for jobs and complete schoolwork.
Increased Need For Access To Food
Donation funds from the Lake Trust Foundation also helped the ECAC purchase a new freezer for their food pantry. The larger freezer allows the nonprofit to provide more quality frozen foods and meats to families in a time of great need. Lately, the ECAC has been serving an average of 80 families per week, a need that has increased 50 percent during the pandemic.
"We are seeing individuals in our food pantry who normally would not be contacting us. This is because so many individuals have lost their jobs or been furloughed," explains Dr. Stan Parker, Executive Director at the ECAC. "We are also providing lunches to the children in the neighborhood because many of them are not able to get to their schools to pick up lunches due to transportation issues."
Access to healthy, affordable food has been an ongoing problem during the pandemic. According to the Center on Budget and Policy Priorities, about 8 percent of adults with children in Michigan reported that their households sometimes or often didn't have enough to eat when data was collected from April 14 thru May 10, 2021.2 For comparison, only 3.4 percent of households made this claim at some point over the full 12 months of 2019.
Foundation Focus
The Lake Trust Foundation works to support underserved populations in Michigan. We believe that by helping our neighbors, we can build and sustain stronger communities. Together, we can build a path for future leaders through educational opportunities, create more connected neighborhoods by supporting local businesses and nonprofits, and inspire hope for the future.
You can join our efforts by supporting the Lake Trust Foundation or Meals For Michigan, our virtual food drive. Thanks to supporters like you, we're able to give back to local nonprofits and organizations, like the ECAC, and help more people in Michigan. That's the power in all of us.