Home isn't just a place where we sleep or store our stuff; it's a mode of self-expression and a marker of where we are geographically and in life. Sometimes we can't really explain what makes a home; maybe it's the people who share the place with us, the decorations that describe who we are or the memories we make while residing there. Because of these things, it's no wonder we get emotionally attached to something that is essentially an organized pile of wood.
As a young adult, Sarah was ready to move out on her own. But the thought of apartment living didn't appeal to her. She shied away from the idea of being confined to the rules and regulations of most apartment complexes and she wanted something to show for her money.
She puts it simply, "It's a stepping stone into the next phase of life."
And buying a home seemed like a natural step for her.
Home Sweet Home
Sarah and her boyfriend started the house hunting process last fall, looking online for homes for sale online in their desired area. A short time later, they called a Michigan realtor to help them with the hunt. And it proved to be a smart move. The realtor soon sent them information for a condo in the right location that was priced within their budget. Still fantasizing about the home days later, Sarah decided it was time to look at the house in person.
The personal showing was even better and her excitement over the possibility of being able to buy increased with each passing day. The only thing keeping her from her dreams? A mortgage.
As a first-time homebuyer, Sarah looked at what credit score is needed to buy a house and used a mortgage payment calculator to prepare for the home buying process. She knew that eventually she'd have a set of keys in her hand, but not knowing what to expect when applying for a mortgage was the most daunting part of her journey. However, the 6-week process turned out to be less intimidating than anticipated.
"It's not an easy process, but it's also not as painful as you'd expect it to be," she says of signing paperwork and making sure everything was in place to acquire her new home.
The truly hard work waited ahead. With the home buying process complete at the end of February 2015, Sarah finally opened the door to her new sanctuary. Where most people saw old carpeting, outdated light fixtures and a dingy kitchen, Sarah saw a vision for a place that she could transform into her own.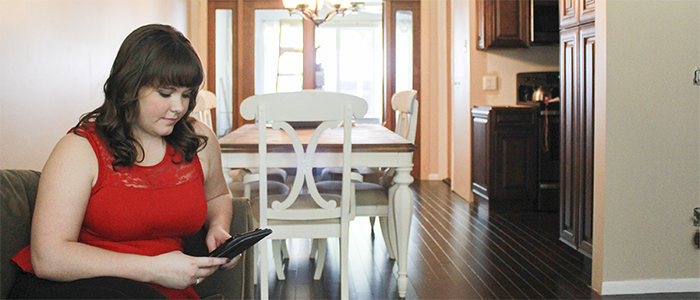 Getting Down to Business
In the flurry of crunching numbers, visiting prospective abodes and creating checklists of pros and cons, we often forget about the emotional investment of buying a home. And Sarah can attest to this, as the new title of homeowner hasn't been easy. For seven weeks, she lived out of a cooler and ate meals off of paper plates. Though she hasn't experienced any major renovation hiccups, she quickly learned not to set her expectations too high when it comes to projects.
"It's not HGTV. Your projects won't be done in an hour," she says while laughing at the notion.
Days after moving in, Sarah recruited her dad, uncle and boyfriend to help with the renovations. Their first project was gutting the upstairs bathroom and installing new tiles. Using a credit union home equity line of credit (HELOC) to finance the project, the remodel process continued from there. Because of her thrify shopping skills, Sarah now has a completely remodeled kitchen, two updated bathrooms, French doors installed in her back room, fresh paint throughout and new flooring downstairs.
What's Next?
In hindsight, going through the mortgage process was actually rewarding. As a Lake Trust employee, Sarah regularly talks to members about loans. Her experience gave her a firsthand glimpse of what members go through when they're buying a home.
"Now I can walk the walk and talk the talk," she says.
Sarah's hoping that her story will encourage others to push away the hesitation that comes along with buying a home for the first time. She goes on to explain that nothing can quite beat the feeling of pride knowing that a place is your own and that you did the work to make it uniquely yours.
"It's the feeling of coming home each day and knowing that this is your own little piece of the world."
So what's next on Sarah's agenda? Having friends over, relaxing and putting away the paper plates for a while.
SEE ALSO: 5 Steps to Financing Your Home | 4 Things to Ask Yourself Before Buying a Home
Photo Credit: Khalid Ibrahim