Get rewarded for shopping at your favorite stores with our new Purchase Rewards program. We know that earning cash is more important to you than earning a million points to buy trinkets. That's why Purchase Rewards gives you actual cash back for using your debit card. The best part is you can still use your coupons when you're shopping, so it's like getting double the savings!
Here's how it works: We'll send you offers in your Online Banking account based on your current shopping habits. Activate the offer, go shopping and pay with your debit card. You'll receive the cash you earned from activating an offer at the end of the following month. So if you redeem an offer in January, we'll deposit the cash you earned into your Easy Checking account at the end of February. There's no limit to the number of Purchase Rewards you can earn, so the more you use your card, the more offers we'll send you.
Purchase Rewards is open to and free to use for anyone who has a Lake Trust Debit Card and an Online Banking account. Check out how easy it is to start earning cash back.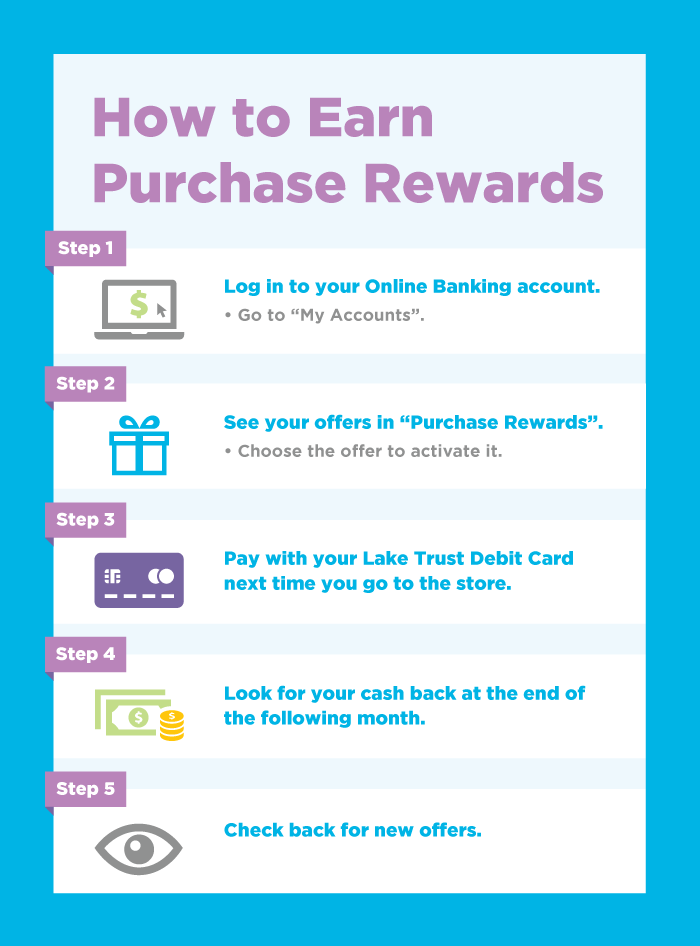 Purchase Rewards are sent to you based on the transaction history of each of your checking accounts. So if you have more than one checking account, you'll receive different offers in each account. You'll need to pay with the correct card to use your offer.
Once you select a Purchase Reward, any debit card associated with your account can redeem the offer. Rewards can only be used once, so the first card used at the offering merchant will redeem the offer. For example, if your husband is joint on your account and he goes to a coffee shop that you had an offer for, the he will redeem the offer on his purchase.
If Purchase Rewards aren't for you, you can opt out by choosing to "Stop receiving all offers" from the link on the Purchase Rewards summary page in Online Banking. If you change your mind later, just give us a call at 888.267.7200 and we'll start sending you offers again.
Have fun saving!
SEE ALSO: 11 Mistakes You Make While Grocery Shopping | 3 Free Apps That Help You Save Money