On an early Tuesday morning, a group of six women gathers together in a small studio. Music blares from a speaker and each woman hustles to her assigned station to begin working out. In the flurry of quick movements stands Del, the class instructor. Her commanding voice is full of energy as she calls out words of encouragement to each woman in the room.
The routine is finally finished and everyone congregates to the middle of the room, breathing hard. Despite their exhaustion, all of the women have smiles on their faces. Welcome to a typical day at DELirium Fitness.
Discovering Her Passion
Del's enthusiasm for exercise wasn't always something that she felt comfortable sharing with others. She loved to workout and took several dance classes growing up. But fitness became less of a priority during her career as a video and film producer in Los Angeles. Until, at age 35, she was suddenly laid off. Feeling lost with the abrupt amount of free time on her hands, she started to run.
To supplement her workouts, she frequented an area gym and got to know the trainers there. Seeing Del's passion and drive for exercise, they encouraged her to get certified as a personal trainer. Her life again took another turn when she went back to school full-time. She soon started her new career and discovered a profound passion for helping women find confidence through health and fitness.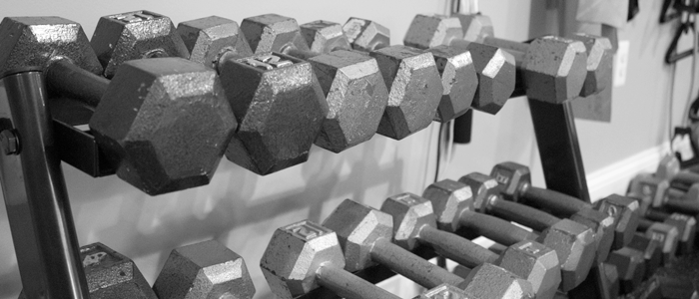 Continuing the Journey
Del, a Lake Trust business member, continued to teach after she moved to Michigan before taking on a few clients of her own. Soon her class of five women grew to a group of 28, with everyone joining only by referral.
"Find your tribe," Del says of starting something new. "Your journey will be completely different if you find a group of like-minded people to do it with."
The small space and rapport between the women have created a safe haven for each person to focus on their health and fitness goals without the intimidation often found in larger facilities. As a mother, Del knows how difficult it can be to squeeze in a workout when the needs of childcare beckon. So, to add to the personal atmosphere, Del helps provide childcare so the women in her classes can exercise without worrying about their children.
Love Yourself
Del's unique approach to teaching has surely contributed to the success and health of the individuals who frequent her studio. A woman's progress is not measured by her weight, but by her physical well-being; A hard concept to grasp when we live in a world obsessed with hard data and numbers. After experiencing an unhealthy journey with her own weight, she understands that the fluctuating numbers on the scale can impede on physical progress.
"I'm teaching a lifestyle," she says of her teaching methods. "We don't work out just to look better. We do it to be stronger, to feel happier and to live longer."
Del emphasizes that a lifestyle change starts with a change in mindset. The hardest part of her work is often not motivating people to exercise, but teaching women to simply accept their bodies, overcome their insecurities, and celebrate their strengths.
Dream Big, Start Small
The small class sizes, tailored fitness plans, and personal attention that each client receives have made DELirium Fitness not just a place to exercise, but a destination for women to connect and focus on their overall well-being. With the recent addition of a nutrition program to her services, Del is teaching her clients how to continue their health journey outside of her studio.
Although Del has big plans for the future, she knows how important it is to grow her business organically and add more features as she finds more success. Soon she'd like to move into a larger space and add more equipment. And eventually, she wants to create a mobile program so she can travel to local businesses and aid their corporate wellness programs.
Until then, she'll continue to find inspiration in the work she does each day.