Through 2022, Lake Trust members helped donate to local housing nonprofits when they closed on their mortgages. Together, we can help build stronger communities.
Through the 2022 home loan giveback program, a total of $54,390 was donated to two Michigan housing nonprofits. The funds were split between Isabella County Restoration House and Advent House Ministries of Lansing. Both nonprofits provide essential services to the unhoused neighbors in our communities.
The home loan giveback programs in 2022 worked with our partners at Mortgage Center to offer members reduced closing costs on their home. Mortgage Center shared that this means members saved an average of $981 on closing costs. In addition, each closed mortgage resulted in a donation from Lake Trust, in collaboration with the Lake Trust Foundation, to support housing nonprofits. Because when we work together, we can build stronger communities.

Advent House Ministries, Inc.
Advent House Ministries, Inc.1 of Lansing, has been serving the community for over 30 years. Providing food, shelter, housing, education, and employment assistance to those experiencing poverty and homelessness. The Advent House aims to provide basic needs such as gloves and hats. They also offer their residents help on the path back to housing with services like help with applications and covering the cost of application fees for rental housing.
Their core program is the Weekend Day Shelter, which served over 34,000 meals to more than 2,200 people last year. Including over 500 children. They served more than 550 people on Christmas Day and provided each child with an age-appropriate gift. And according to Advent House, the services they provide are only possible because of continued community support, like the donation from Lake Trust.
According to Advent House, the need for help is significant due to rising costs across the board. The most vulnerable are renters with young families and baby boomers, who are getting pushed out of their homes due to rising costs.
How to give additional support.
Advent House has a pressing need for things like diapers, gas cards, e-tran and CATA passes, mattress covers, and quarters for laundry. They are always in need of volunteers to help serve meals at the Weekend Day Shelter.
For more information, to donate or volunteer, visit adventhouse.com.1
"We believe help is a group effort. That's why we bring together people of many faiths to build a community of hope for those who struggle with poverty and homelessness." -Advent House Ministries, Inc.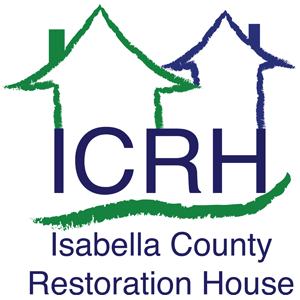 Isabella County Restoration House
The Isabella County Restoration House1 (ICRH) is a seasonal, rotating shelter. Each week, a different host site opens their doors to ICRH guests to provide a warm, safe place for those in need. Lunches are provided by the Isabella County Soup Kitchen and ICRH also offers support to those experiencing homelessness on the way to becoming self-sufficient.
According to the ICRH, from 2021 – 2022, they served 110 guests emergency needs, served 1,440 meals and 24 weeks of shelter. In addition, they helped with long-term solutions such as helping 27 people find housing. This was done through the group effort of 23 host churches, 15 community and business partners, and 3,084 volunteer hours.
Isabella County Restoration House has seen a bigger, faster increase in those needing shelter. Right now, they are at capacity and have a waiting list of 40 people hoping for shelter. In January, they expect to house 35 people per night. Because of the demand, they plan to build their own permanent shelter that will act as both a day and night shelter.
How to give additional support.
Isabella County Restoration House needs support through funding, and donations of essentials such as coffee, sugar, and juice.
For more information, or to donate, visit ICRH.org.1
Together, we can do more.
While the issues and needs surrounding homelessness may be complex, the importance of home is simple. And if we meet our neighbors where they are and address needs where we can, we can grow stronger communities, together.